Staff Writer: Kevin Mitchell
To many, athletes have a certain obligation that goes along with them being athletes. They have a platform and it's their job to use that platform to speak out for change and to speak out for a better way of living.
Athletes are more than just players in a game, they are influencers who have the capability of reaching thousands (perhaps in the millions) of fans in the way they speak and what they stand for. Some have faced social inequality firsthand and some just know that what's happening isn't right, nor fair, and should not even exist at this point.
People say not to speak out against certain things because it doesn't matter if you do or don't, but the only way anything is going to change is if people speak out. There's no need to stay silent on something that's been an issue within a country for years.
The NBA bubble has had a huge effect on social justice due to it becoming a platform for change. Lebron James, Jamal Murray, Chris Paul, and so many other players have spoken out for change while they were in the bubble.
"Players are woke, they're aware, they know what's going on. We just have to continue these conversations," Paul, President of the National Basketball Players Association, said.
Players wore messages like vote and justice on the backs of their jerseys and some players like James and Murray for example, have worn messages on their shoes. Things like the Black Lives Matter symbol and pictures of George Floyd (A black man killed when a police officer knelt on his neck for 8 minutes and 46 seconds) and Breonna Taylor (A black medical worker who was shot and killed during a botched raid while she was sleeping in her apartment).
Although they are playing to win and going against each other to stay in the bubble, they all are together in the fight for change.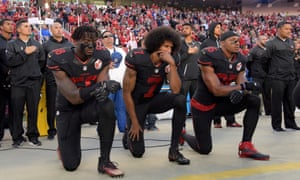 Photo Credit: BleacherReport.com
The NFL has players who spoken out for change as well. One of the most notable being Colin Kaepernick. He played with the San Francisco 49ers and in 2016, he took a knee and sat down for the playing of the National Anthem. The fans didn't like that he showed disrespect to the country and he's been out of the league since the end of that season.
"I am not going to stand up to show pride in a flag for a country that oppresses Black people and people of color," said Colin Kaepernick.
That was 2016 and we're now in 2020 and still talking about the same issue. His actions classify him as a true leader for many. He lost his NFL career to speak out for change and basically say that it's time for our nation to not stay silent but instead speak up and be heard in our efforts and fight for change.
Photo credit: ABCnews.com
It's not just African Americans speaking out for change though. It doesn't matter what race you are at all; you can still speak out when you feel something is wrong. In the same year Kaepernick took a knee, in a game in the Netherlands, the captain of the U.S. Women's National Soccer Team, Megan Rapinoe, followed in Kaepernick's footsteps and took a knee during the National Anthem to show support of the fight.
This fight has been going on for too long. It's time that change comes and the only way to get change is to speak up and speak out and vote. Voting, another massive cause that athletes have taken up, is the biggest thing that people need to do currently. Most in this country feel that this any election is important if they want change. It has become evident that many people feel this election cycle is particularly important as seen in advertisements, social media posts, protests, gatherings, sporting events, etc. At this point, it's obvious that the only way change is going to come is if people make it themselves.